1385403
story
I've been fan of Neil Gaiman's work for a long time, and so it was with gleeful abandon that I got an advance copy of his latest work, American Gods. Being an advance copy, there were sections that may receive a bit of editing, but it seemed that this was just about the final form of the book. I mentioned being a fan of Gaiman's work for a long time for a reason -- I may be a bit fanboyish. That's not to say that there were not a couple problems with it -- but those were very minor issues compared with the overall strength of the book. Those who have read Gaiman's work before -- from Sandman to
Good Omens
(with Terry Prachett) and
Neverwhere
-- are familar with his knowledge of mythology and the idea that stories are extremely powerful. For those who didn't read it, well, there you go. Mythology and the Old Stories are important and powerful. With that foundation in place, on we go.
American Gods
author
Gaiman
pages
480
publisher
Morrow, William & Co.
rating
8.5
reviewer
hemos
ISBN
0380973650
summary
A Gaiman-style (and therefore surreal) walk through mythic America.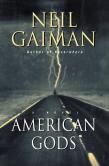 The note that Gaiman makes on the cover of my book regarding the difference between this book and Neverwhere, his book about Underground London, is a good one.
"If Neverwhere was about the London underneath, this would be about the America between, and on-top-of, and around. It's an America with strange mythic depths. Ones that can hurt you. Or kill you. Or make you mad.

American Gods will be a big book, I hope. A sort of weird, sprawling picaresque epic, which starts out relatively small and gets larger. Not horror, although I plan a few moments that are up there with anything I did in Sandman, and not strictly fantasy either. I see it as a distorting mirror, a book of danger and secrets, of romance and magic.

It's about the soul of America, really. What people brought to America; what found them when they came; and the things that lie sleeping beneath it all."
American Gods is about the mythology of America, but also about its relationship with gods, stories and what America is about. I think that's the story of this book; the story of what America is and what it is about.

The characters, mainly, are Shadow and Odin. Odin has been an frequent character throughout Gaiman's works, and as someone who memorized Odin's stats in Legends and Lore, I've always enjoyed Odin, and think that Old One Eye is an interesting historical figure -- and one who is interesting to get to know a bit more intimately, albeit through a writer's eyes. Shadow's character, is the one character I liked the least. Well, that's not quite how I mean it -- I did like Shadow the character, and I think I'd like him as a person. But it feels sometimes like the Shadow's actions and dialogue are a bit stilted, but that's only a slight flaw in an overall wonderland of reading.

The two relationships I glommed most on to are the ones between Shadow and Odin, and (in a very different way) between Shadow and the other gods and goddesses that he meets. The other curious relationship, if it can be called that, is the one between Shadow and his dead wife. Trust me. It sounds wierd, but it works really well.

In a nutshell, this is the tale of what happens to old gods when they are brought, sometimes without the believers even knowing it, to a country that doesn't really hold a belief in gods - or rather, a belief in traditions. One of the most interesting parts about America, to be nationcentric for a moment, is the lack of traditions in things, compared to the rest of the world. But America has created its own gods, of a sort, and the main plot point is about the intersection of the old gods and new gods. And the most interesting part of the story is there, I think. Because that's where the meat of the book is, and where it transcends being just a story about "god hangs out with guy, creates havoc, guy has dead wife who talks to him, old & new gods want to fight, guy solves problems." (Well, I suppose that is a pretty cool story.)

American Gods delves into larger issues of what it means to hold on to our traditions and beliefs in a world that has dramatically changed, and in which our relationships with each other and what's around us has In summary, this is a book with a good story. More then that, it's a story about relationship to the world around us, and what being human means. It's good. Really good. If you've got even a [metatarsal] of philosphy, or a modicum of interest in reading good stories, buy it.
---
You can purchase this book at Fatbrain.